Emergency Medical Services Information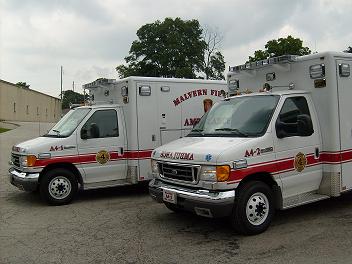 Malvern Fire Company EMS provides basic, intermediate and advanced life support services to Malvern Borough and parts of Willistown Township, East Whiteland Township, East Goshen Township, and Charlestown Townships. On average we cover 2,500 EMS calls a year. Our dedicated and well-trained volunteer and career personnel allow us to maintain this coverage for the citizens we protect.

Currently we operate 2 ambulances, 2 medic responder units, a squad, EMS Strike Team trailer and an ATV. The backbone of our current fleet are our ambulances. The newest is a 2016 Horton Type III Ford ambulance that was placed into service in February 2016. The second unit is a 2007 Horton Type III Ford ambulance. These units are capable of providing basic, intermediate and advanced life support services. Our medic responder units allow us to assist surrounding ambulance services when they are in need of advance life support services. These units are currently a 2013 Chevy Tahoe and a 2008 Dodge Durango. All of these units are licensed with the PA Department of Health and carry a multitude of equipment to be prepared for any type of emergency.

In addition to our primary units we have 2 support vehicles, a 1995 Dodge 4WD truck and a Strike Team trailer. The truck allows us to bring additional manpower and equipment to emergency scenes as well as gives us 4WD capability when needed. The Strike Team trailer holds equipment designated for Strike team responses when necessitated by large-scale emergencies. The PA Department of Health has formed a Strike Team task force to assist other entities in the event of major emergencies. Malvern EMS is a proud member of this team and has responded twice to assist after Hurricanes Katrina and Gustav struck the Gulf Coast region. The ATV is used for special events and allows us to gain access into areas the larger vehicles can not enter.

Malvern EMS is supported primarily by fees for services provided, as well as contributions from the community. A fully equipped advanced life support ambulance costs approximately $250,000. For more information about Malvern Fire Company EMS please contact ems@malvernfireco.com or 610-647-0693.
A copy of our Privacy Practices is available at this link: Notice of Privacy Practices

Dialing 911

Please see the following message from the Chester County Department of Emergency Services.

Occasionally, usually during severe storms with wide-spread power outages, more 9-1-1 calls are made than can be answered. During these times, after a few rings the caller will receive a recorded message letting the caller know that they have dialed 9-1-1 and all telecommunicators are busy. The recording will instruct the caller to stay on the line, except if they are calling to report a power outage. If this is the case, the caller will be instructed to call their electric provider.

Even during these busy times, callers should not hang up once they have dialed 9-1-1. Even with a hang up, we still receive your phone information, and have to call back and verify that you do not need assistance; this could delay help for someone else who needs it.

If you dial 9-1-1 by error, simply let the call-taker know when they answer the call. The call-taker may ask some questions to verify that the call was dialed in error and that you truly do not need help.

If you have questions about calling 9-1-1, feel free to contact us at 610-344-5000 and ask to speak with someone in the 9-1-1 Operations Division or Public Information Officer.

Subscription Drive

Why become a Subscription member?

Many times, insurance coverage does not provide 100% coverage of ambulances services that cost anywhere from $800 to $2,000 or more. For a small contribution to this program you and your family will be covered for a year. If you need Malvern Fire Company Ambulance to provide care and transport to a hospital and you are a member of this program you will have NO ADDITIONAL out of pocket expenses.

2021-2022 Subscription Fees:
Individuals - $90

Families - $125 (Family is 2 or more individuals residing in the same household.)

Senior Citizens - $50
For additional informaiton on this program or the flyer to sign up please select the links below:
Click Here for Ambulance Subscription Flier
Click Here for Ambulance Subscription Form

Effective April 1, 2021 to March 31, 2022.
If you have any questions about the Subscription Drive please contact the station at 610-647-0693 or by email at EMS@malvernfireco.com

Third Party Billing Program

What is third party billing?

It is a program that provides reimbursement for hospitals, doctors and ambulance services. This reimbursement is based on services rendered to patients. In some cases, insurance companies or Medicare may reimburse some portions of the ambulance chargers.

How does third party billing work?

We are required, by law, to bill the insurance companies of every patient we treat and/or transport. By obtaining funds this way, we are able to keep rates lower while still providing the highest quality emergency ambulance services.

Billing Questions

If you have a question about Malvern Fire Company EMS billing practices or a bill received from us please call our billing company, Cornerstone, at 877-214-6018 or 866-724-4142. For additional billing information to pay your bill online or submit insurance information please goto http://www.ambulancebillingoffice.com/

CPR/AED Training

Having the knowledge, skills and abilities to perform Cardiopulminary resuscitation (CPR) or utilize an Automated External Defibrillator (AED) could allow you to help save a life. In the event you witness, or locate a cardiac arrest victim, after calling 911, it could be necessary that you perform CPR or utilize an AED prior to the arrival of Malvern Fire Company EMS personnel.

If you, your family or business are interested in CPR/AED and/or First Aid training at economical prices, please contact Keith Johnson at kjohnson@malvernfireco.com for more information.